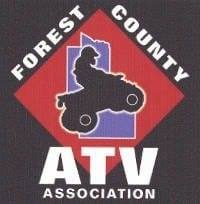 FOREST COUNTY ATV ASSOCIATION
November 12, 2022 at 9:00am
Laona Senior Center- Laona, WI
Present : Tim Veith , Linda Peterson, Zane Roberts, Brandi Roberts , Chuck Breeden, Tom Tucker, Kathy Tucker, Mark Benotch, Jake Pozorski, Mike Biese, Tami Plamann , Steve Plamann, Scott Siebers, Mary Thornton
1.Call to Order/Pledge of Allegiance The meeting was called to order and the Pledge of Allegiance was said.
II. Additions to Agenda: No additions to agenda.
III. Adoption of October 2022 minutes Steve made a motion to accept the minutes of Octobers meeting, seconded by Chuck. Motion carried.
IV. Treasurer's Report Tani gave treasurers report. Linda made a motion to approve as reported, seconded by Mark. Motion carried.
V. Old Business
A. Membership Report- Currently the membership is 85 Businesses, 392 Families, 51 Singles for a total of 528. 4 Families did not renew and 1 Single
Discussion about tracking renewal dates and recording non renewals also so we do not lose members.
B. Equipment Storage Jake checked with all the places that where list for equipment storage however none are available. Equipment to remain parked by Jars through the winter months.
B. Storage Shed- Discussed cost of rental fee and the one that has been renewed for the year is much cheaper than other units in area however discussion on door freezing in Winter and side wall needs to be enclosed. Mary agreed to put clothing gear into plastic totes and store at her residence for the winter.
C. Magnet Discussion – Club discussed magnet options that Jake and Mike had checked into. Linda made a motion to purchase new magnet not to exceed the cost of $14,000.00 Seconded by Zane. Motion carried.
D. Poker Run Status – Positive feedback on keeping poker run season long and improving communication with the participating businesses. Discussion for next year doing a trade show style or show and shine. Consideration to have end of year party at Crandon Saloon again.
New Business
New Tractor Discussion – Discussion on participating in John Deere rent a tractor program. Steve made a motion to pursue enrollment in rental program for next year and have 2007 tractor on the market for sale for market value. Seconded by Mark. Motion carried.
2022 Ride Dates – Club members agreed to have May 13th 2023 set for Spring Ride and Poker Run Party Sept 16th – Annual Banquet will be September 9th . Club discussed other rides that will be introduced in the spring.
Valley Trail Maintenance – Valley Trail needs repair; it has several problems. Mike to enlist the Hwy Department to assist with repairs.
Town of Laona – Bushafer Rd– Laona Chairman, Mark Chrisman informed Mike that he is considering closing Bushafer road to ATV traffic due to unable to maintain road and number of complaints. Mike to discuss with Forest Service the urgency to repair this section and the connection it has to other trails in the area. Mike and Jake looking at different options.
Holiday Donations- Motion was made by Tom to donate $250.00 to each organization: New Hope Homeless Shelter, Newcap Community Action Center, and the Christian Food Pantry. Seconded by Scott. Motion carried.
Motion was made by Steve to adjourn, seconded by Linda. Motion carried.
Respectfully submitted
Mary Thornton, FCATVA Secretary
Next Meeting: March 11, 2023 at 9:00AM Laona Senior Center
PREVIOUS MINUTES